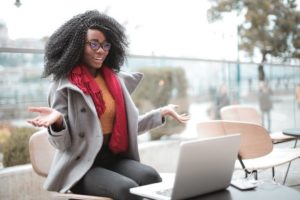 It's an interesting time to be dating. Not that dating isn't always somewhat interesting.
But during the coronavirus (COVID-19) epidemic, dating has taken on a few unexpected challenges. Challenges that are actually changing the way people date right now, and could continue to alter dating habits in the future.
COVID has forced our fast-paced, modern dating to come to a halt—just as it's made our fast-paced, modern world do the same.
Current precautions surrounding the virus have made dating become more of an online activity than ever before, and has made people change the way they connect and build relationships.
Here are five ways dating has changed during COVID-19!
In-Person Dates Are Out, Video Calls Are In
Before the coronavirus, meeting in person for dating was a popular activity, especially if you had met someone via a dating app or website first. Meeting for a drink or meal was a common way to get to know someone better and evaluate their second-date potential.
Since restaurants and bars have been closed (but are currently in the process of reopening), virtual dates in the form of video calls have been taking the place of traditional in-person dates.
A video call has become an excellent way to get to know someone without actually seeing them in person. You can better understand their personality, gauge their attractiveness, and see how well you communicate before deciding if a second date is an option—no bar tab required!
Less Pressure to Make Decisions
There are a few decisions that people often worry about when going on a physical date, including:
Who will pay for the date?
What will you wear?
Where will you go before, during, and after the date?
How will you act?
Is it ok to have any type of physical contact?
Since COVID-19 has pushed dating to an almost exclusively virtual platform, there's much less pressure to make decisions. You won't have to worry about planning a full outfit, paying for a meal or drinks, or wondering whether or not a kiss on the cheek or a hug is appropriate at the end of the night.
The setting is also more familiar—being at home—so you'll likely feel more comfortable and relaxed when meeting "in person" for the first time so you can just be yourself and have a conversation with the other person.
More Time to Cultivate a Relationship
With people working from home and some people out of work—not to mention continuing COVID social restrictions such as larger gatherings—people generally have more time.
People are able to dedicate more time to a developing relationship, even if they are just video calls or phone calls. And, considering our current crisis, the conversations these potential couples are having are likely to be more meaningful, and people might disclose their fears or concerns—things they normally wouldn't share on a date.
Yet, these intimate conversations could begin the foundation of a solid relationship.
While romantic love doesn't take much time to develop, a sustainable attachment to someone does, so more time makes a big difference when it comes to a successful relationship. The coronavirus is giving people more time to invest in finding someone to begin a relationship with, which can lead to stronger foundations and longer-lasting bonds.
Both Parties Stay Safer
Virtual dating is safer in regards to COVID exposure, but it's also safer in the respect that identifying personal details don't need to be shared outside of your screenname.
There's no need for your date to know your address, what car you drive, where you work, or any other information in the event that things don't end up going well. This information may not have been available during your initial date anyway, but it might have been.
And there is cause to be cautious about online dating outside of COVID—19% of young women say that someone has threatened to physically harm them on a dating site or app.
During a video call, both parties are allowed to maintain a measure of privacy, and if you don't end up exchanging phone numbers or other contact information, there's no obligation or reason to interact with the person after the date is over.
COVID Could Help Delay Marriage, Which Could Be a Good Thing
You may know a couple who has had to reschedule their wedding due to COVID, but the virus has changed dating in the respect that it may delay marriage in the long run, which could be a good thing.
If couples are dating virtually and taking longer to get to know each other, they may delay marriage. Couples who date for longer before getting married have a higher chance of staying married than couples who don't date for long before marriage.
But how long is long, exactly?
Research shows that couples who date for one to two years before they marry are 20% less likely to divorce, whereas couples who date for three or more years before marriage are 39% less likely to divorce.
Of course, you won't have to put marriage off for the next several years, but COVID may play a role in how long you take to get to know your next partner, which could give you your best chance for a successful relationship!
Regular Dating Can Take Some COVID Pointers!
Although many people are eager to get back to the normal dating scene, post-COVID dating does have its benefits.
From the new video call stage where you can better get to know the person at a lower risk (and for less money!) to the longer period of time in which dating occurs, you may just have your best shot at finding a serious long-term partner during this crisis.
Have anxiety about online dating, or considering life coaching to help you meet your goals, invest in personal growth, and better navigate your relationships? Reach out to me at [email protected] for more information!