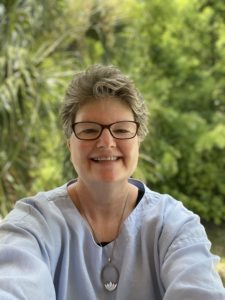 Noell Rowan, Ph.D., LCSW, LCAS, CCS, ACSW is a clinician with more than three decades of experience in the field of social work. She has practiced in hospital, community, and private practice settings in Georgia, Kentucky, Indiana, and provides clinical supervision for MSW students in North Carolina. After practicing for more than a decade, she returned to further her education and earned a Ph.D. in social work and has since authored more than 40 publications and participated on many teams of grants to expand her ability to focus on wellness in the areas of mental health, addictions, and spirituality. She has served in several university leadership roles building social work degree programs, was recruited to UNCW School of Social Work to join their leadership team and has resided on the beautiful coast of North Carolina since 2013. She teaches graduate students about practice skills, oversees the graduate addictions certification program, and enjoys making meaningful connections with people and fostering growth toward the highest potential.
Noell considers it a high honor to work with people on their life journey, and seeks to collaborate and honor each person's path and way of viewing the world to navigate their concerns, process thoughts and feelings and recognize their strengths and solutions along the way.
Noell offers clinical therapy services solely via virtual telehealth. She is enthused to join Therapy Charlotte to offer her presence from a supportive clinical social work stance. She has had formal training from the Beck Institute on Cognitive Behavioral Therapy, and often focuses her work from trainings on Motivational Interviewing/Motivational Enhancement Therapy, Brief Solution Focused Therapy, Person-Centered, Strengths Based, and Insight-Oriented Therapy. To learn more about telehealth and see if it is right for you, please check out this article on The Benefits of an Online Therapist.