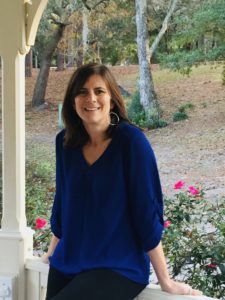 Jen August, LCMHCA is a clinician with over 20 years of counseling experience. She is currently living in Wilmington, North Carolina, where she oversees an advocacy center for survivors of interpersonal violence at the University of North Carolina, Wilmington.
For Jen, being a counselor is more than a job; it is a privilege to accompany clients on their path of healing or growth. It can take a huge amount of courage and strength for someone to open up their inner-most thoughts, feelings, and vulnerabilities to someone new and Jen is honored each time someone invites her to participate in their therapeutic journey.  Jen also recognizes that people are the experts of their own lives and circumstances so she works in collaboration with her clients to help them access their inner strength and power to navigate life's circumstances in the best way for them.
Jen recognizes the client-counselor relationship as the most important element to enabling progress in counseling and while Jen's work is informed by a variety of modalities (including Cognitive Behavioral Therapy and Solution-Focused therapy), she primarily comes from Person-Centered and Strengths-Based perspectives in her counseling. Since she lives in Wilmington, sessions with Jen will always be virtual. To learn more about virtual therapy and see if it is right for you, please check out this article on The Benefits of an Online Therapist!