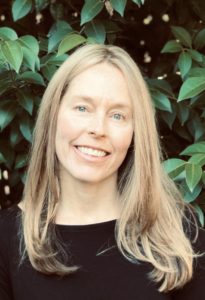 Elizabeth Pinard, MSW, LCSW is a virtual therapist in North Carolina with over 10 years of clinical experience. After working in the banking industry for over a decade, she left her job in capital markets structuring and selling foreign exchange derivatives to pursue a career which aligned with her passion to help others. Elizabeth returned to graduate school, completed a Master of Social Work Degree, and obtained her Licensed Clinical Social Worker Certification. She worked for a local non-profit for over eight years in various roles including therapist and clinical supervisor.
Elizabeth uses a person-centered approach to assist clients in identifying and achieving their goals for therapy. She guides them to greater self understanding and self compassion in a safe, non-judgmental environment. She believes strongly in the mind-body connection and empowers clients to work toward their own integrated mind-body awareness for improved health and healing. Elizabeth works with individuals to address challenges associated with depression, anxiety, perfectionism, self worth, relationship concerns, and life transitions.
She has received formal training in Cognitive Behavioral Therapy (CBT) and often uses this modality in addition to Solution-Focused Therapy and principles from Acceptance and Commitment Therapy and Somatic Experiencing.
Since Elizabeth specializes in virtual therapy and counseling, she can work with adults all across North Carolina.  To learn more about telehealth and see if it is right for you, please check out this article on Why You Should Try Online Counseling & Coaching!