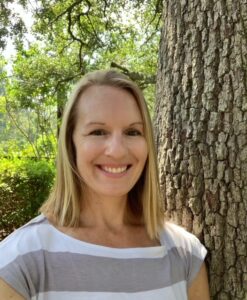 Amy Van de Motter, LCSW moved from Ohio to North Carolina in 2000. She earned her undergraduate degree in Elementary Education, teaching public school for three years. During this experience, she realized her passion for making personal connections with her students and their families, which led her to pursue her masters degree in Social Work.
As a licensed clinical social worker, Amy has spent more than a decade working therapeutically with individuals and families from a wide array of backgrounds, experiences, and perspectives. She lived and practiced therapy in Tennessee and Massachusetts, before returning to North Carolina in 2014, which she is happy to call home. She now works as a full-time faculty member in the School of Social Work at UNCW, primarily teaching graduate students, and also works part-time with an adoption agency.
Amy's practice philosophy is grounded in one of the core social work values: the importance of human relationships. She recognizes and honors the trust and courage it takes for clients to enter into a therapist-client relationship, and works in partnership with her clients to establish that foundation of safety and support. Clients' individual needs, preferences, and beliefs are honored and respected throughout their work toward change and personal growth. She enjoys working with individuals struggling with relationship issues, life transitions, stress management, anxiety and depression, and other experiences that challenge our ability to cope and adapt in the way we normally do. Amy's practice incorporates concepts and techniques from Person-Centered Therapy, Cognitive Behavioral Therapy, Motivational Interviewing, Solution-Oriented Therapy, and Acceptance and Commitment Therapy, as well as ideas from mindfulness-based approaches.