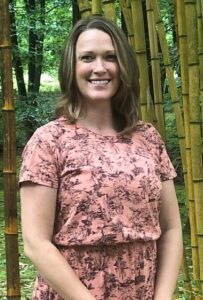 Ryane Miller, LCSW is a clinician and coach with nearly 10 years experience.  She began her career in the corporate sector as a business developer and sales team trainer for the Southeast region of NC before returning to graduate school to purse her true calling as a therapist and coach. Aside from her counseling and advocacy work, Ryane teaches undergraduate and graduate-level field seminar classes for the UNCW School of Social Work, and provides graduate students with clinical supervision.
Ryane offers therapy and coaching services solely via telehealth.  Her clinical style is person-centered and highly collaborative, with a large focus on building therapeutic relationships that feel empowering, safe, and supportive.  Ryane works hard to meet clients where they are and to honor their unique lived experiences and readiness for change.  She often utilizes a strengths-based approach that assists clients in identifying personal strengths and protective factors already working in their lives as a place to start working toward personal growth and forward movement.  Ryane knows that lasting change and healing is possible–she has seen it first hand in her work! She believes it is important to remain flexible, open, and creative to help people reach their ultimate goals.
Ryane is passionate about working with those experiencing challenges with anxiety, depression, relationships, life transitions, stress management, self-worth and self-compassion, work-life balance, creating and maintaining healthy boundaries, and family issues. She has received training in Cognitive Behavior Therapy, Motivational Interviewing, Solution-Focused Practice, and Mindfulness-Based Stress Management Techniques. She can also provide clients with information and learning tools connected to spiritual practices such as yoga, breath work, meditation, mindfulness and grounding techniques.
Since Ryane specializes in virtual therapy and counseling, she can work with adults all across North Carolina.  To learn more about telehealth and see if it is right for you, please check out this article on Why You Should Try Online Counseling & Coaching!